Socia was created in 2002 in response to the challenges of an increasingly interconnected business environment. We recognised the central role of effective collaboration for individual leaders, Boards and whole businesses wrestling with the pressures of interdependence.
Socia is now an expert in making collaboration work and has a track record of working with leaders, Boards and businesses across many sectors who need to build collaborative relationships in order to deliver results.

Effective Board operation depends on robust collaboration between executives and non-executives. Socia applies its expertise in collaboration to a wide range of Boards across all sectors in order to deliver a unique, cost-effective approach to Board evaluation. Find out more here

Leaders in the 21st Century need to be able to deliver results across organisational boundaries. Socia mentors leaders using a unique set of tools and techniques, helping them improve how they build relationships, manage conflict and share control in today's complex business environment. Find out more here

Complex supply chains, multi-party contracts and outsourcing deals are just some of the arrangements that mean that businesses no longer exist in isolation; they have to deliver in collaboration with others. Socia has the experience to help our clients form collaborative relationships that deliver results. Find out more here
Collaboration isn't simply about 'being nice to each other'. Effective collaboration whether between individuals or whole businesses is about strong, robust relationships where partners can scrutinise each other and deal with conflicts constructively in an environment based on trust. In order to create this collaborative environment, Socia believe there are three interconnected elements that need to be addressed: the Governance of the relationship; the operations of the relationship; and the behaviours demonstrated by those involved. All our assignments whether evaluating a Board, mentoring a leader or mediating a conflict between organisations, will address these three foundations of successful collaboration. To find out more about our approach to collaboration click here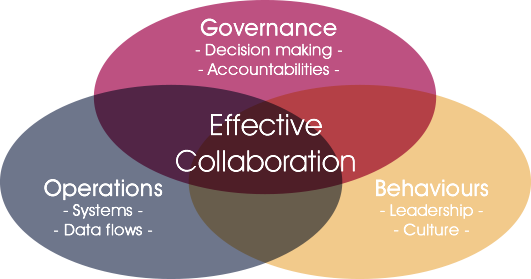 Collaborative leadership
– building relationships, handling conflict, sharing control
Many of the people who will help make you and your business successful don't work in your own organisation. They may not share your language, beliefs, manners or behaviours – but without their skills and effort you will never make it as a leader in today's interconnected world.